The smart PDU with ATS and API
that keeps track of consumption
This smart PDU combines remote power management per output, configurable automatic failover (ATS), short circuit isolation per output, power metering per output, current limiting per output and per input, ground control and availability/consumption based automatic shutdown and power up.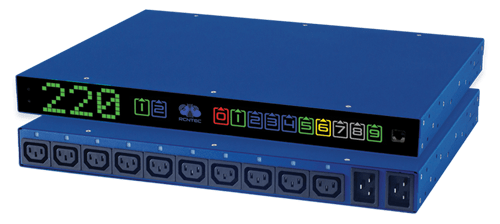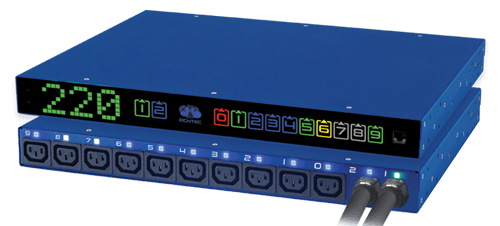 Smart PDU – that's all you need
With this PDU you have 10 smart current outputs in 1 U. Switch them on remotely, measure how much has been used, switch them off during peaks and errors or have them perform power cycles when equipment stops responding. Do this all through the API or built-in web portal. On the road, you can even use the App for iPhone.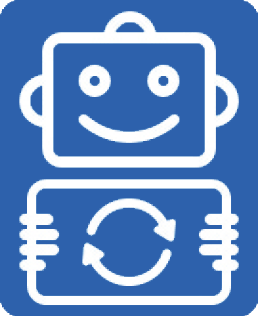 Fix equipment crashes automatically!
The Smart PDU is capable of automatically restarting any equipment that has crashed. It does this by determining whether it is still pinging the connected equipment (ICMP packet loss) and by checking whether the power consumption falls below a value set by you. If the conditions are met, the power supply to the device is switched off and switched on again after a while.
Switch individual outlets remotely
System administrators can remotely turn on/off and reset any of the 10 outlets. Administrators can also handle cases where the equipment was turned on/off without authorization, was accidentally disconnected, or experienced a power failure.
Measure power consumption on each output
At each output, the power consumption can be measured and read out via the API. This makes it possible to detect equipment that suddenly starts to use more power. You can also automatically invoice customers based on actual usage.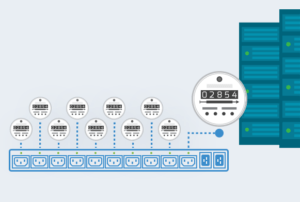 Short circuit protection on every output
If a short circuit occurs on one of the connected devices, RPCM automatically turns off only the power, leaving the remaining devices working – both the device connected to RPCM and the other devices connected to the same busbar. Because ATS is used for backup power, short circuit protection helps prevent both inputs to the rack from being turned off, while also preventing power to the equipment on the rack from being turned off due to a short circuit on one of the loads. It also helps to avoid the tedious process of locating the faulty consumer affected by the short circuit before restoring power to the rack.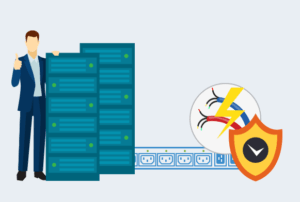 Built-in ATS - Automatic failover between feeds
You can supply the PDU with two power feeds. In a data center this is called the A and B feed. If the power on an input fails or deteriorates in quality, the device automatically switches the consumers to another input without interrupting the power supply. Ideal for connecting equipment with a single power supply.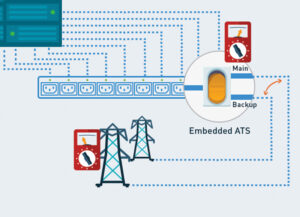 The best integration options with REST API / SNMP
Use REST API / SNMP protocols to simplify operations with scripting. Integrate RPCM Smart PDUs into your billing/monitoring/management systems and even customer portals to have your power infrastructure data and control over your and your customers' key interfaces!
Adjustable switch-on sequence with delay
This prevents high switch-on peaks and allows you to force a correct switch-on sequence.
System administrators can in fact guarantee that the equipment will turn on after a complete failure. They can also determine the activation sequence and delay when switching on the equipment after the failure, enabling them to properly start the IT infrastructure and information systems.
Diagnosis for correct grounding
RPCM prevents failures and equipment malfunction. It also increases power safety during equipment use thanks to automatic monitoring and proper grounding indication.
The highest density. 10 connections per U with ATS
10 manageable outlets per unit. As a result, one less power management device per rack is required compared to competitors.
Configurable limits on power consumption for each outlet
System administrators can prevent fire hazards from occurring by setting individual limits on current consumption on each outlet, through administrator notifications, or by automatically cutting off power supply to a consumer that has exceeded the defined limit.
For data centers and colocation service providers
Any customer purchasing a service to locate equipment on data processing center platforms wants maximum ease of resource deployment:
remote energy management
power consumption control
reliable and backup power
payment only for used resources
statistical and historical data
The Smart PDU is a remote power distribution unit that gives colocation service providers a tool to provide their users with all of the above and more!
The device allows users to:
To protect their equipment from failure in the event of a short circuit on a neighboring device
To ensure seamless handover on any of the inputs if a failure occurs
To provide remote power management to users for their equipment
To access statistical and historical data on power consumption
For companies, remote offices, points of sale, gas stations, boats
Every company strives to manage its operations effectively; in particular, a simple, handy instrument is needed to make and ensure the power supply resilient. Remote facilities often lack qualified personnel who can perform simple operations, which can lead to significant downtime and costs.
The Smart PDU is a comprehensive power control module that provides indispensable control, management and power supply capabilities.
The device allows users to:
Protect equipment from power surges from other equipment
Prevent fire thanks to the ability to limit power consumption
Remotely control power outputs
Control the activation order and delay of sockets after a power outage to avoid peak loads on the grid and to switch on equipment in the correct order
Control power consumption using power meters on each individual outlet
Controlling a constant good power supply by automatic switching between supplies in the event of a supply failure or deterioration of the quality.
For telecom operators and remote telecommunications hubs
Each telecom operator strives to ensure that the services it provides are not interrupted; therefore it is crucial that power supply on external communication hubs can be guaranteed. Often such facilities are equipped with UPS and/or diesel generators, but when the UPS fails or a short circuit occurs on a device connected to the power supply, it usually leads to a shutdown of the entire hub.
Many problems can be solved with the Smart PDU. Use it to:
Protect a communications hub from UPS failure or fire hazards due to degraded insulation quality in appliances and electrical wiring or moisture
Protect equipment in a communications hub from failure in the event of a power surge on certain elements of the infrastructure

Determine the activation order and delay of outlets after a power outage to avoid peak loads on the grid and on UPSs. In addition, the equipment can be switched on in the correct order.